Vör Tüüg kemen se uut't Water ruut,
stünnen up't Land –
elk Vagel, elk Minsch, elk Ding
een Stääd' twüschen de Antarktis un Galway.
Womœglich spääl sik dat twüschen Galway un 't Noord af:
In't grote Water wöör dat Läven waak,
de Vagels sprüngen tohöögt, na'n Häven rup,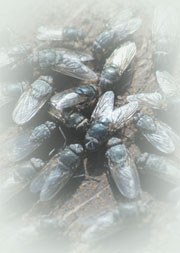 un de Bistahers stünnen de Müler apen.
Denn flegen de Flegen
un smeten jüm ähr Läven na de veer Winnen
un grœlen: kiekt mi an! ik bün free!
Liek as de Vagels bün ik. Good bün ik.
De Vagels keken na de Hävenflegen rup,
de flegen, as se dat je ook sülven dään,
keken de lütten Flegen afgünstig an
un weren smachtig. – Se fräten jüm!
Œverdragen: © 2008 Reinhard F. Hahn
This poem in Irish, English, German and Sass'sche Schrievwies
Have your say...
comments