God Speed All Bikers and Give them Sense
The barmaid said to the biker Bulfin
"God speed all bikers and give them sense"
Left him bemused and me amused
As I read here of her words so many hears since.
She saw not the joys of the bicycle then
What would she make of motorbikes now
Who race in the TT and on roads for the craic
Could she have imagined how
That eccentricity of those too lazy to walk
And not the sense to have horse or cart:
I reckon no, or what is yet to come
That brings puzzlement to even my heart,
God speed us all, but don't give us sense
Give us the wisdom of wonder how and why
To bemuse the bystanders with that what we do,
Be remembered like Bulfin, for daring to try.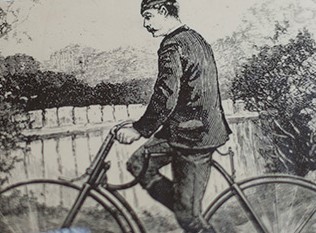 Background
"God Speed All Bikers and Give them Sense" said the barmaid in Ballintra to #WilliamBulfin, author of #RamblesinEireann – you have to love the Irish cynicism.

Maybe she forsaw the bane cyclists would be to Irish motorists today!
Reference:
http://www.irishidentity.com/geese/stories/bulfin.htm
Have your say...
comments