Aniar a fhéachann an Bhean Amach
Féacheann sí trasna na mara,
Níl aon talamh eile don súil,
Ach amháin uisce amach go dtí'n spéir
Agus ar an trá atá sí ag siúil.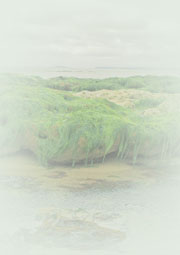 Lorgaíonn sí bád ar an uisce,
Nuair a thagann sé abhaile arís
Tá aghaidh brónach ar an gcailín,
Níl sí ach naoi mbliana déag daois.
Tá daoine eile cois farraige,
Páistí lán le spraoi,
Agus iad ag féachaint ar an uisce,
Níl tásc acu fuathi.
Mar tá sí marbh, faoin uisce
A léim sí maidin amháin leis an ngrian,
Chaill sí a grá sa bháid,
Tá sí ina coladh anois le cúpla bliain.
This poem in English, and German
Have your say...
comments